In my last post I discussed our readings. The other thing we are adding into our ceremony is the sand ceremony... basically it goes perfect with our beach wedding so I wanted it in the ceremony. I had actually completely cut out the idea and had it out of my system until I met with my Pastor a couple of weeks ago when he was asking me what I do and don't want in the ceremony. When I explained how I did but then cut it to save time he said I was rediculous. And he's right.
Listen ladies, if there's something you want in your ceremony / wedding... DO IT. We only get married once. He had a good point... it would save my ceremony what, a minute?! Not worth it. So now my ceremony will be 21 minutes instead of just 20 minutes. Oh well, I think we can handle it. So the sand ceremony is back in session. In my next "Ceremony Extras" post I will explain how and when the sand ceremony will be happening.
S0 now it was onto choosing how we wanted to do the sand ceremony. First of all, I knew I didn't want something like this...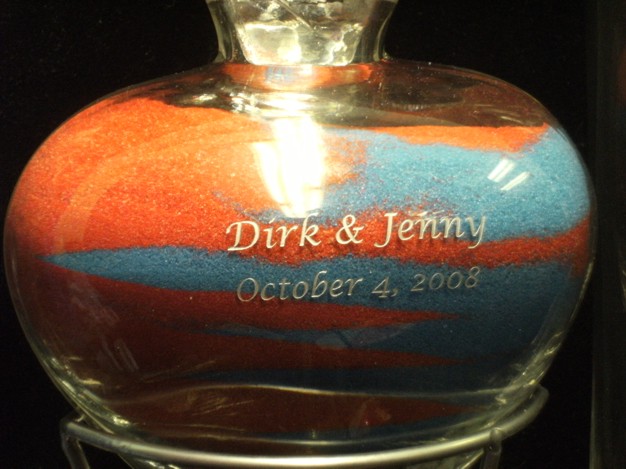 Some random cheesy vase with sand colors that look like Mr. Mojito's alumni colors at Pepperdine University. No offense to anyone who is doing the bright colored sand. I just wanted this to be something that could be in our home forever... something that some people would see as just a nice piece of decor, but to Mr. Mojito and I it could mean so much more.
So my goal was to get some sand in colors like this...
So as soon as I saw that Michael's was doing 50% off coupons last week I printed out about 10 of them and headed on over. I've learned you want to go to Michael's as late as possible. That's when the high schooler's are working and they don't follow rules... so I don't get Grumpy Gerta who says "Sorry, one per customer"... I hate when they pull that shit, don't make me get back in line. Whatever. This kid let me use 5 of them, I love him.
Here was everything I purchased:
Apothocary Vase - $15, $7.50 with 50% off coupon
Vases - $4 each, on sale for 2 for $5
Decor Sand in Tan & White - 4 @ $3 each ($12 total), $1.50 with 50% off coupon ($6 total)
TOTAL BEFORE SAVINGS: $35.00 + tax = $38.06
TOTAL AFTER SAVINGS: $18.50 + tax = $20.11
SAVINGS: $17.95
...man I love getting a good deal! My whole sand ceremony cost me $20, I can't complain about that! Plus I will have a great piece of decor and two nice vases (that I might just sell after the wedding).
Are you doing any type of unity ceremony? I've heard of sand, wine, candle, and now even a cross ceremony... any other ideas to share with my readers?