I honestly haven't been this excited since I got engaged. Two Friday's ago Mama Mojito and I met with our florist in Newport Beach and it was awesome! We are getting such great deals and so much more then I ever thought we would be able to get with our budget. Fortunately, our florist needed new signs for her shop and my dad does signs... so he did some signs for her in exchange for making sure my wedding is EXTRA fabulous.
I felt like it was going to be better then ever once she asked if she could use my wedding to enter into the annual florist contest that apparently is nationwide and pretty prestigious. I mean, if she plans on submitting my wedding don't you think she's gonna make sure she doesn't miss a thing?
There are so many flowers going to be involved but here are some of my favorites, not necessarily all in these exact colors if I couldn't find them on google images... but just think bright fuchsias, limes, and tangerine colors!
Fuchsia Peonies - Mostly in my bouquet

Fuchsia and Tangerine Dahlias


Green Cymbidium Orchids - Mostly in my bouquet and then in centerpieces. Also part of Mr. Mojito's bout as well as the moms corsages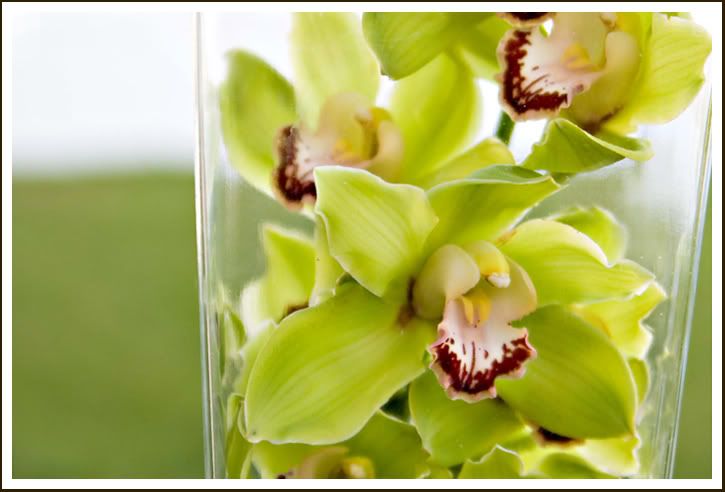 Tangerine and Fuchsia Ranunculas (Are these not soooo swoony!)


Green Button Mums


Green Spider Mums



Hot Pink Hydrangias - Mostly filler spots for centerpieces



The pink floral hanging like on this centerpiece will hang a little on the moms corsages as well as on the tall centerpieces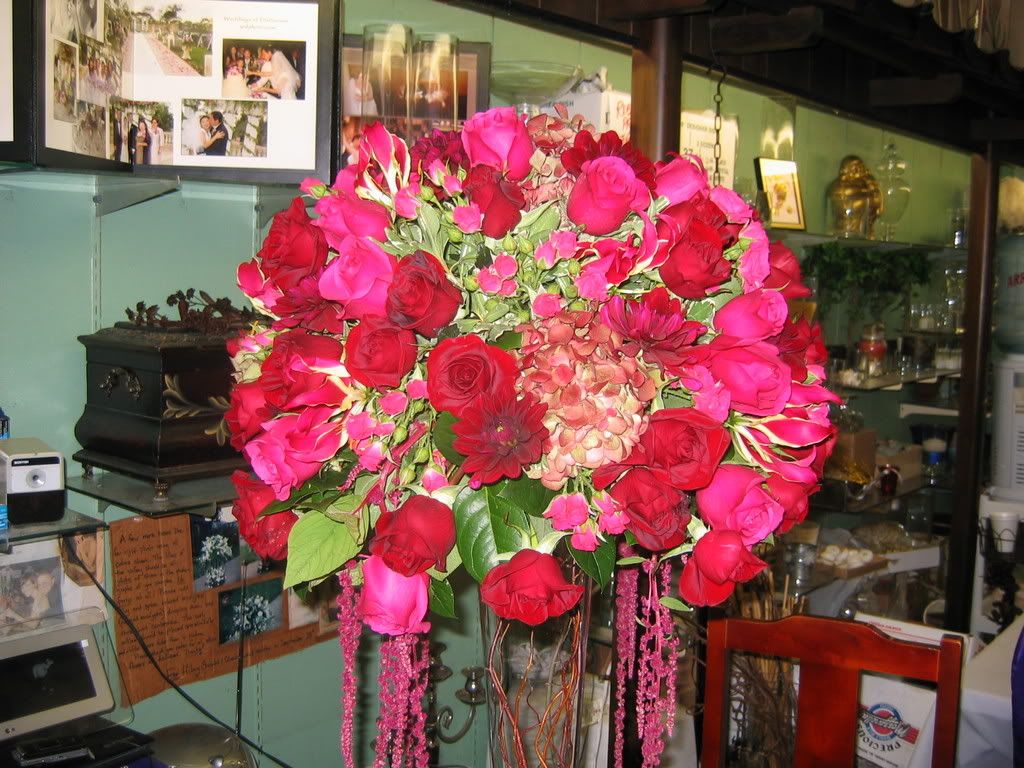 Tea Leaves will be swirled in the tall cylinders in the tall centerpieces. Like it is kinda below but no flowers, just the leaves swirled up the cylinder throughout. Couldn't find a pic executing the vision.


Bear grass coming out of the centerpieces...


And the bridesmaid bouquets will have the loopy tea leaves as well, see how it's done around this bouquet?


As a whole I'm sooooo excited about my flowers. I'm getting all of the flowers I want and I basically told her to just make it look amazing. She knew the flowers, she knew the colors, and I trust her to do the rest!

Here is everything we are getting for our wedding from Jean at LaVonne's Florist:
1 bride bouquet
6 BM bouquets
2 mom corsages
1 groom bout
5 GM bouts
2 dad bouts
2 larger floral arrangements for ceremony
3-5 flower clusters for front windows of ceremony on yacht
aisle pedals
22 centerpieces -- 11 tall, 11 short
flower pedals for cake table and sweetheart table
aisle runner
toss bouquet
...and I'm sure there might be more.

I CAN NOT WAIT to go see all of the flowers in all of their glory on a gorgeous April afternoon on a yacht in Newport!