I have some problems, okay it's not really a problem at all. It's me over thinking something because it's just something I've never heard of before. So I decide to come to you ladies for the best advice... because you always convince me I'm either (a) crazy and need to get over it or (b) have a reason to fret and throw me some good alternate solutions.
I'm not getting a wedding band. Refresher, here is my ring:
When I first did a google search I actually found girls in "Yahoo Answers" asking the same thing, but I feel like people will just think I'm only engaged, and not actually married yet. Does that even matter? Probably not.
My ring is very unique and flesh to my finger, so I see no way of having a wedding band without getting something custom which custom means $$$ and my ring is already pretty thick. I couldn't imagine adding more thickness to it.
So here is the option we are looking at, at the moment. Almost two years before we got engaged, Mr. Mojito bought me this as a promise ring, it's actually a wedding band: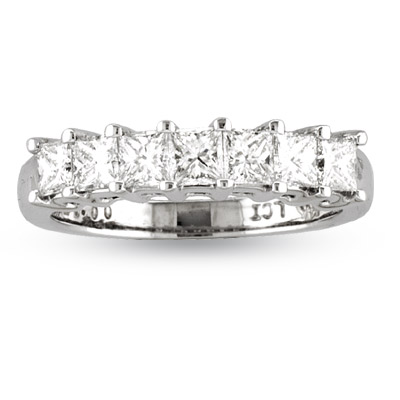 It is a nice white gold band with seven princess cut stones. I loved this ring and never took it off my left hand for all that time. So it meant a lot to me and was the first amazing big step I ever took romantically (except that one time in Cancun... another blog for another day, okay j/k). So since I got engaged that ring got put in the ring box that my engagement ring was in with the intensions of possibly using it for a wedding band. Okay, it doesn't sit up against my engagement ring at all, but it honestly didn't look that bad. But what I was really thinking was wearing the promise ring / wedding band on my right hand and continue wearing my engagement ring on my left hand. I know it's not the traditional way to go but I think it works for me, for us.

Thoughts? Is it weird that I'm going different from the norm?