Today I'm a quarter of a century, the big 2-5!
Since ya'll don't know me very well I will send you a little trip down memory lane... to see some of my big bangs since I've turned 21. Because honestly, who went all out for their birthdays as much as they did then for their 21st?
Here is my 21st birthday. I only celebrated it at a local pub restaurant, T. Phillips, because I'm the oldest of all of my closest friends, so I couldn't go out to any of the popular bars or anything for my party because the people that mean the most to me wouldn't be able to go.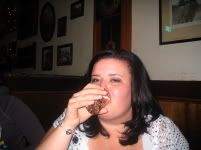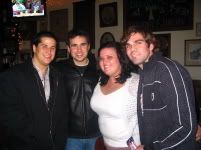 This is me with just my Fab Foursome out at the Saddleranch for just our little girls night on my 21st, it was great!
My next birthday was even more fun then my 21st I think... all of my friends were finally 21 once I turned 22 and I celebrated at my hot spot at the moment when I was 21 (which is now no longer) -- Rockin' Taco in Downtown Fullerton.
Up next was the big 2-3. For my 23rd birthday I was so busy and didn't really get to plan much and I remember a lot of my friends were out of town that year. That's the problem when your birthday is between Christmas and New Year's. This year we went to dinner at this AMAZING restaurant in Downtown Fullerton called Roman Cucina (some of the best Italian!) and then went to the bar that I was at 3 nights a week - Slidebar. Place isn't the same anymore, but was my stomping ground for a while. I also had left my camera at home so only had a couple pix from some friends, not like me at all! :(
And one year ago, my 24th birthday which I decided to take it out to Hollywood and L.A. for a girl's nite. First we hit up one of my favorite restaurants in Hollywood, The Velvet Margarita. They have great food and well, great drinks! After that we headed to a little celeb dive hot spot for some killer karaoke, Dimples. It's an awesome Karaoke bar and they give you DVDs of all of your songs you sing and also take pix of you and your group and print out 5x7s for you. Always a good time!
Did I mention there are props and outfits? LOL
...and a stripper pole.
For my birthday this year we did a girl's night at a local dueling piano bar called "Rock the Keys"... we always have a great time there and I will definiately share some pix from the evening! Hmmm, I wonder what Mr. Mojito is getting me! :)