You know when I'm down to my socks it's time for business that's why they call them business socks... Oooo!
Do I have any fellow "Flight of the Conchord" fans out there? Anyone? Well you either love them or hate them. I used to love watching their stuff on Comedy Central and when they got a show on HBO I was stoked (just found out they had their last season *tear*). Mr. Mojito and I became hooked but since we are too cheap to pay for HBO channels we wait until a season comes out and then just buy it and watch them all at once haha... it's like one of the stupidest shows, and they sing, and yeah. Well the song above is one of my favorites, "Business Time", it just cracks me up. But it's also one of the things where it probably won't be funny to just listen to the song. Moving on..

I don't know about you and your mister but Mr. Mojito and I have been living together for about a year now. So of course when we first moved in together I had some cute PJs I wear but now he's lucky if he doesn't see me in just the grammy-jammys.

Okay I'm not gettin' too frumpy yet, I have my cute PJ sets, but I definitely am not trying to impress Mr. Mojito like I used to. Is that bad? Possibly, I should still try to look good for my man but I feel like then when I do dress in something cute and sexy he really notices and I get the whistle walkin' up the stairs to the bedroom! ;)
So one thing I always try to do is when we have a special occasion that we will be going to a hotel for (i.e. Vegas trip for his birthday) or for the upcoming most SPECIAL nite... the wedding nite. I try to have something sexy.
I know I have some curvy readers and being a plus size honey myself I'm on the hunt for something that will be flattering and sexy for my mister on our wedding night. Here are some great finds that I wanted to share that would look good on just about ANY size if you aren't one of those lucky gals that looks good in newspaper wrapped around them.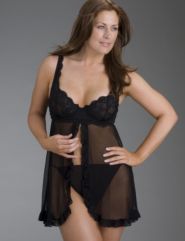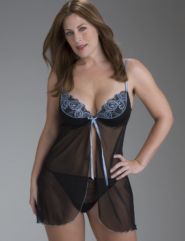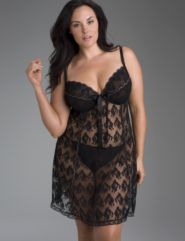 Here are a couple for those that are a little more self conscious but still want to look sexy...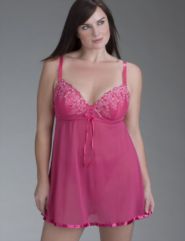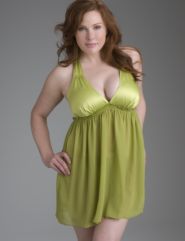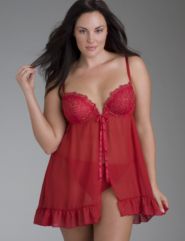 Love the lace cami and shorts set...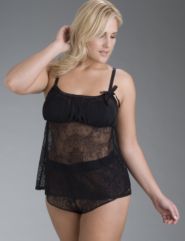 Those were all from Lane Bryant and I can't pull pix from Torrid but they have some REALLY sexy stuff that your men would love. Even one of my faves, Betsey Johnson, has some fabulous plus size lingerie now through her line Betseyville...


There are tons of great options out there for any girl in any shape, size, and personality. We can all look sexy on our wedding nights ladies (or any night for that matter), and we SHOULD all feel sexy!
But as a side note... do I REALLY think I will end up in something sexy on my wedding night? I think I will be completely and utterly exhausted and maybe some of my married friends could confirm this :)