One day I came up with a random idea. I wanted to go Honeymoon Suite hunting! I don't know about your venue but where mine is at in Newport Beach we are surrounded my tons of FABULOUS hotels! So I wrote down a list of them and Mr. Mojito and I went on a little trip to check out a bunch of hotels in Newport Beach, Laguna, and Huntington Beach.
It was actually a lot of fun, we got to walk into a bunch of fabulous hotels, tell people we were getting married, and check out some awesome suites! Some hotels tried to then convince us to get married there but we had to assure them we already had the venue and were just looking for a place to stay the night before and the night of our wedding.
We had a few items of criteria for the hotel we were staying at the weekend of our wedding:
Great place for a "First Look".
Not your typical hotel.
Good space for all of us gals to get ready (the boys don't need space!).
First stop was the Hyatt Regency in Newport Beach.
The place was huge, gorgeous, and all seemed great. For what we were getting the prices seemed a little steep and they didn't have anyone there that could show us around. They also only had self park or valet starting at $19 a day, eek we are going to have a lot of cars there that's steep! My parents actually ended up staying there two weeks ago for Mama Mojito's birthday and they HATED it. The rooms were very dated they said and falling apart. My parents are picky people by any means but when you're at a Hyatt Regency for a pretty penny you expect the room to live up to the name. We easily crossed this one off of our list.
Next stop was "The Island Hotel" in Newport Beach.
This place was AMAZING right from the start. At a lot of these places we couldn't find guest parking and when trying to explain to the valet guys our situation they were always a pain in the butt. We are trying to give you our business people, help us out! The valet guys and front desk staff at the Island Hotel were amazing right from the minute we got there. The Valet told us just to go ahead and pull up next to the Bentley and Mazarati that got a "special parking spot" (haha, wish I had a pic of my PT with those cards) and said to take our time. Mr. Mojito and I walked around the grounds a little bit to see if we could find a place for a first look. We found a spot that could be great as long as we could get people to go away for like 15 minutes -- I think our coordinator and/or photographer could handle that don't you think? It was very tropical and romantic... reminded me of our trips to Maui so I liked that about it. We then went to talk to the front desk and they went and took us to look at a couple of rooms. Of course they didn't have any "basic" rooms to show us but rather took us to the very top floor at a corner room that was a nice one bedroom suite that had the best view of the Pacific Ocean as far as the eye could see. Okay you sold us, but how much. A lot, but possibly a contendor.
Next we went and checked out the Hilton and Hyatt in Huntington Beach that are right next door to eachother.
Hyatt Regency Huntington Beach



Hilton Hotel Huntington Beach
Hilton was just 'eh. One decent spot for a First Look but would have great Ocean in the background... very close to the pool though. The hotel of course is just a basic nice hotel, nothing to exciting. The Hyatt on the other hand is FABULOUS! Found so many great places to do first looks but they have the potential of being ruined if there is a wedding that day... and on a Saturday in April you can count on it. There are like four different location possibilities for a wedding there so you aren't guarenteed to have a place that we picked out, prices decent.

We then headed on down to the other side of Newport Beach heading towards Laguna. Right between the two there are two resorts that are a little more secluded and have AMAZING views.

First here is the Pelican Hill Resort...


Honestly, I wish I could find a better pic from the second you pull up to this place, I felt rich and famous. I felt so uncomfortable with the fabulousness of it all (let me tell you, I was lookin' beat-up that day!) I just told Mr. Mojito to leave. So while the fancy-pant valet guys looked at us funny we flipped a u-turn and headed out. If I hadn't been getting tired I probably would have just gone in to check out it's fabulousness but I knew it would be way out of our budget so I decided since we still had one more place to go to we wouldn't waste our time. Rooms start at $595 a night, and that's for a boring garden room! Yeah, can't afford that for two rooms on Friday night and one room on Saturday night. Geez, we hardly want to pay that for the whole thing! (Still hoping someone is gonna come around to book these rooms for us.)

So last but not least (we didn't even finish our list) we stopped at the Marriott Villas. It tends to be used for time shares but these are also available to purchase on a nightly basis.
Honestly, I'm just gonna go flat out and tell you it's perfect and we will be choosing this place. Everyone room is a "suite" -- it has a kitchen, living room, and two bedrooms. Not necessary for the night of the wedding but perfect for the night before the wedding and the day of! We are planning on staying with our bridal parties the night before and that's just perfect for our slumber parties! That also is great for all of us girls who will be getting ready and we will have enough space for hair dressers, etc. as well. There are also tons of places to do our First Look (this place is huge)... I actually stayed here a couple of years ago with MOH-KC when her parents had some timeshare points that were going to expire so they just got a place there for the week and people came and gone throughout the week. It was really nice and so much fun!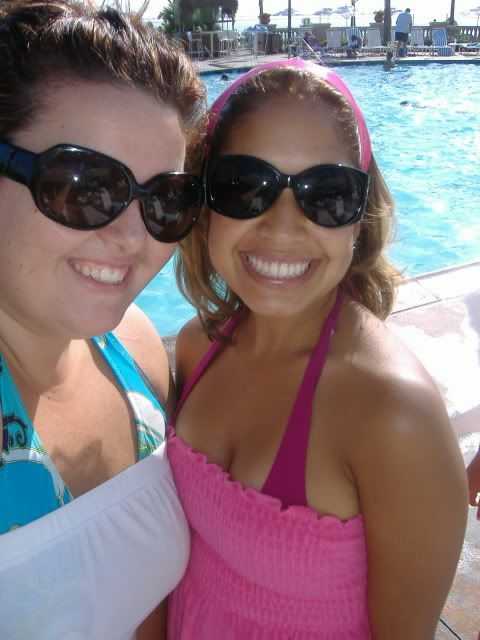 Only pic I could find of our good time at the Villas. I went and talked to the guy at the front desk who couldn't tell me what the prices were exactly for the weekend of the wedding but he said the middle of April is typically an off season for them at the resort and we should be able to get a great deal. He said for sure less then $170 a night I believe, that's if I remember correctly, this was over a month ago.

But anyways, rather then just picking a place off of the net this little day we spent driving around looking at places was such a good time and I recommend it to all of the couples who don't know where they are staying the night of their wedding! Something fun and different to do with the future-hubs.

Next up, a great way to help pay for your Honeymoon Suite!