One of my favorite local photographers is
Hazelnut Photography
, if I hadn't have won my photographer she was who I was going to go with -- she did Miss Sprinkle's wedding as well as Mrs. Meatball's Boudoir shoot. I actually was referred to her by a personal friend who did 2nd shoots with her and I just instantly fell in love... she has some great style!
Today she posted about another LA wedding that was fabulous and I saw something that I had never seen before. I always get excited when I see ideas that haven't been over done yet and since I've been second guessing doing a sand ceremony (not sure why I'm second guessing it) maybe this would be a great touch... a ring warming.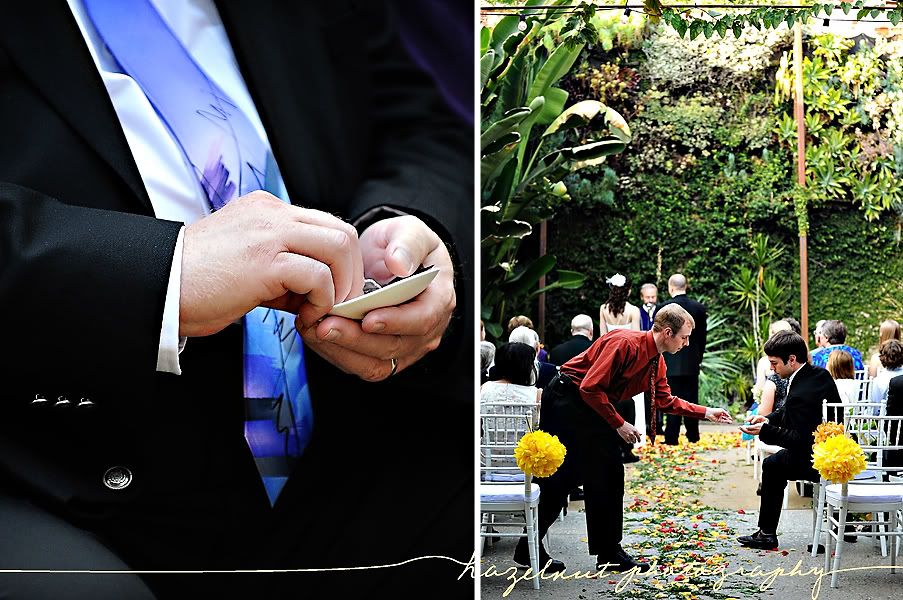 You pass the ring around for everyone to hold and give you "well wishes". As long as your family doesn't have a history of having some shady kleptos you'd be in good shape, kidding. But I'm on a yacht, so they couldn't go far with my ring!
I think this would be a great opportunity to do this special touch during a reading that I want to have during the ceremony. Plus it gives me an excuse to have something that up until this point I haven't had an excuse to have.
Yes, that is the forever popular ring bowl by Paloma's Nest. I always adore those so much but since we aren't having a ring bearer I haven't had a reason to ever get one. Hello, perfect.
I just love when my family and friends get to be involved because I'm so excited to be sharing this special day with them and I think that would just be a special touch. My only thought is will people just be involved with checking out the bling rather then the ceremony?
Do you have any special touch you are putting in your ceremony that isn't a typical thing you see all the time?