So Mr. Mojito and I had a hard time choosing places to register at. Target was a given, because well it's Target -- perfect for the young people to shop at for gifts. We also LOVE Crate & Barrel so we wanted to be sure to get some great decor for casa! For the big things like appliances, pots and pans, dishes, bedding, and towels we decided to go for Macy's. Surprisingly I think this was my favorite place to register and we had saved it for last.
When at Crate & Barrel we chose our "theme" we were going for in the kitchen. We were going for the "Winery" theme and were going for the plums and greens. That all went out the window when we got to Macy's. Now we will have to be making a trip back to Crate & Barrel to get rid of tons of things that we thought we wanted in our kitchen but now won't work. That's kind of okay though since Crate & Barrel needs to be updated frequently since they are a seasonal store.

Do you think Mr. Mojito will at least build me a wine cellar then? Ha!

So once we got to Macy's I fell in love with the ever so popular Martha Stewart line. It's that fabulous blue and many of her items are pretty affordable. So of course I had to get the Martha Stewart Kitchenaid... FMIL asked me that night what the one thing was off the registry that I wanted and that was the Kitchenaid. Seeing that they LIVEBY their Kitchenaid I think that could be a great possibility! :)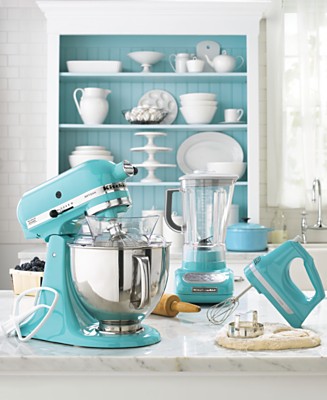 Perfect, as I was searching for a picture I found one that included our hand mixer and blender that we also registered for -- so in love! We will be having all white dishes like it shows in the background and I think I need the shelf that's in the back once we buy a new house, because I'm lovin' it!


Couldn't find that timer but I will be registering for that... also got the salad spinner, mixing bowls, chopper, recipe box, colanders, and rubber spatula. I couldn't let myself get the food processor, Mr. Mojito kinda talked me outta that one. We will see if I feel I need it at a later date, haha. I'm sure I will come up with a reason why I think I need one.

Mr. Mojito had a concern that we were going over board with the blue but I thought so much will be in the cupboards it's not like you will see it all. It just has such a clean crisp feel to me and with all of the white and stainless steel it will just look so slick!

I just love the look of a white kitchen, and with the Martha blue splashes I think it will be perfect!


What was some of the registry items you were most excited for? Any specific theme you are going for in your kitchen?