So as Mr. Mojito and I made a trip to IKEA a while back we realized the need that they need to have a wedding registry. They could make some business off of that... as if they aren't extremely busy already, but still.
Mr. Mojito and I found something we instantly loved. We had no idea what we were planning on doing for our big boy and big girl room but when we saw this furniture we decided we wanted to base it all off of this line at Ikea. It's called the Hopen line and comes in a couple of colors, we are getting the brown-black. We just love the foggy glass with it.
There are all sorts of pieces that match, we will be getting the king size bed frame, two night stands, the four drawer dresser (for Mr. M) and the eight drawer dresser (for Miss M of course).
For all five pieces it was going to cost around $850 with tax, not too bad I guess for an entire makeover in the master bedroom. Then I realized yesterday, uhm helloooo, IKEA gives 20% off with a College Student ID. Score. I think this will be something we will start buying (even if it's one piece at a time) as soon as we pay our couches off which should be done in the next week or two.
Good news is, is our current bedroom is an apple green color so I think it would go great with the paint color, and I'm thinking of possible this comforter from Crate and Barrel to go with it.... ok went to the Crate and Barrel website and can't find it now. Of course... but did run into this one that I really love and think would look killer...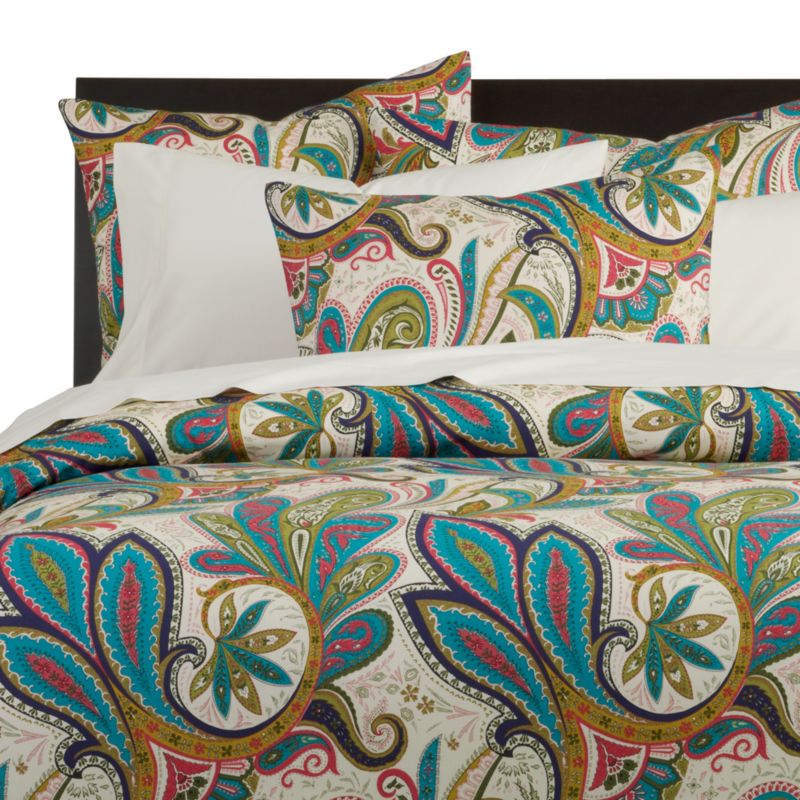 [Sorry for the small pic, best one I could find.]
I think the furniture will leave room for any type of color scheme or theme... It will tend to look more brown when with neutral tones and more black when with the darker theme... which is good because I like to change up my bedroom somewhat often and haven't been able to since I moved into our new house -- our room is a tropical theme at the moment. Surprisingly though, all of the picking out of different furniture and bedroom accessories has been a lot easier then I thought with Mr. Mojito! We have agreed on just about everything!
Did you and the mister agree quickly on things? Did you get to just pick things all on your own?