I just wanted to wish everyone a great Halloween, it's on a Saturday this year so I'm sure people will be getting a little crazy. I on the other hand have the FSIL's bridal shower (that I posted about earlier) so that will take up most of the day so the nite with be spent with some fellow couples watching scary movies, making mojitos, and baking Sprinkle's Cupcakes (love that they sell their mix! Yummm... pumpkin and banana cupcakes!). So everyone be safe out there and have a great time, meanwhile I will show you some of my previous Halloweens!


Halloween Party at my house, I was a Pirate Wench.


That year was one of my favorites, me and all of my friends dressed us as the cast of the Wizard of Oz. Wish I had a good pic of my whole outfit with my green tights and hat on! You can't see because he's so dark but there is an evil flying monkey in the top right of that one pic above. :)
I had a house party this year and my camera was stolen (how can peeps be so lame?!)... this is the only pic I got from a friend and it's blurry. My whole fairy outfit was so cute though!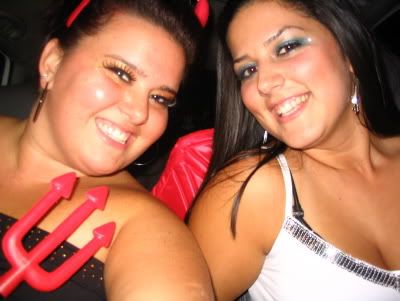 Me and MOH-Lu dressed up as an Angel and Devil that year.
Everyone have a great time this weekend and I hope to have a bridal shower recap for you Sunday or Monday!
HAPPPY HALLOWEEEEEEN!